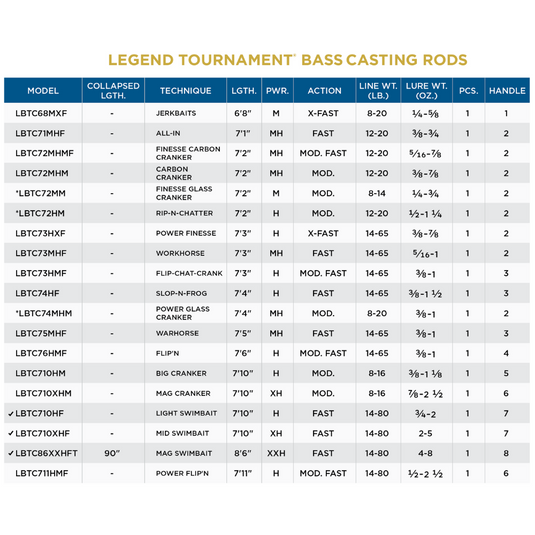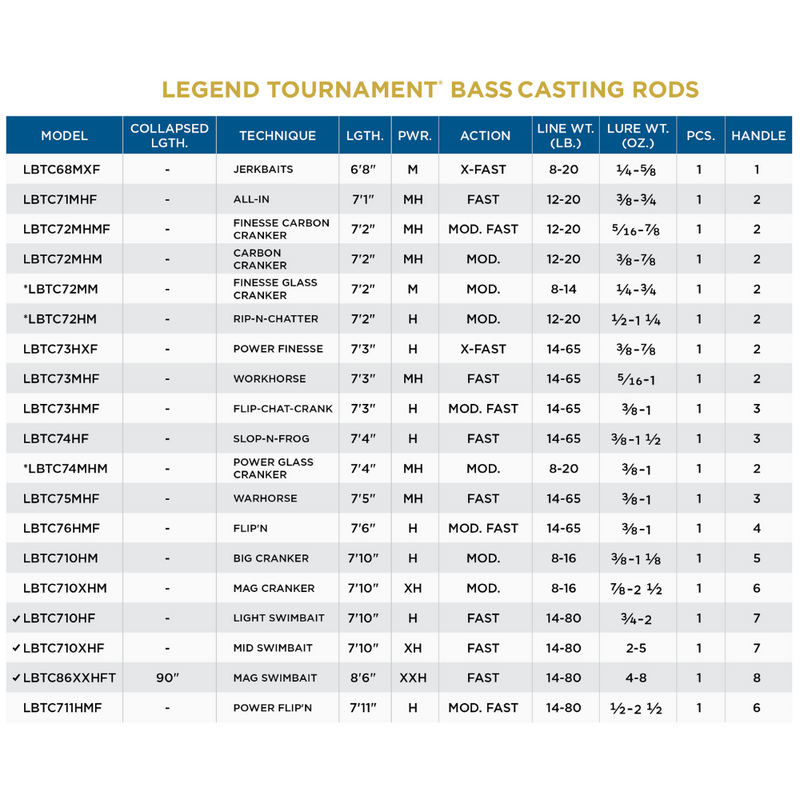 ST. CROIX LEGEND TOURNAMENT BASS RODS
Featuring more advanced technology than any other bass rod on the market today, the St. Croix Legend Tournament Bass Rods offer incredibly smooth casting power, lightweight balance, extreme sensitivity, rugged durability and awesome visuals.
St. Croix built each rod on completely re-engineered mandrels that are designed with St. Croix's proprietary Integrated Poly Curve (IPC) tooling technology. The blanks of the Legend Tournament rods combine high-modulus/high-strain SCIV graphite with FRS for strength and durability. 
St. Croix has also built the newer Legend Tournament models with Advanced Reinforcement Technology (ART) to strengthen the rods even further.  
Product Features:
Integrated Poly Curve (IPC) tooling technology. IPC eliminates all transitional points in the rod blank; IPC-engineered rods feature smoother actions, increased strength and greater sensitivity.
Advanced Reinforcing Technology (ART). ART is an exotic carbon fiber material that adds a magnitude (10X) of strength with virtually no increase in blank diameter or weight. ART significantly improves the hoop strength of the blank by preventing it from deforming or ''ovaling'' under a severe load, such as a powerful hook set or fish battle. ART is also a critical part of our slim-profile ferrule design.
High-modulus/high strain SC

IV

 graphite with FRS for unmatched durability and strength
Fuji K Series Tangle-Free Concept Guides with Alconite rings and Corrosion Control (CC) matte finish frames. Ideal for super braid, mono and fluorocarbon lines, the sloped frame and ring ''shed'' tangles before they become a problem.
Fuji PTS blank-touch seat with built-in hood.
Machined-aluminum wind check and trim pieces.
Split-grip/super-grade cork handle.
Kigan hook-keeper
Two coats of Flex Coat slow-cure finish.
15-year transferable warranty backed by St. Croix Superstar Service.
Designed and handcrafted in Park Falls, U.S.A.