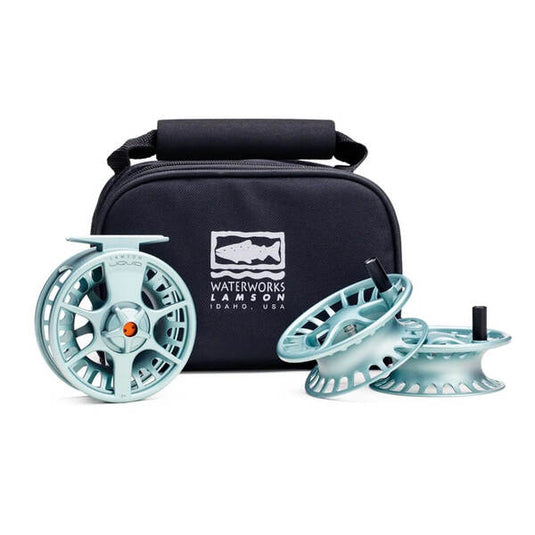 WATERWORKS LAMSON LIQUID 3-PACK FLY REEL
The Liquid 3-Pack by waterworks Lamson includes one Liquid Fly Reel and two spare spools in a nylon carrying case all for the price of one reel and one spool. The Lamson Liquid Fly Reels offers everything you need in a fly reel at an absolute bang for your buck and this new combo pack opens up easy interchangeability for the multifaceted angler at even more of an extreme value.
The Waterworks-Lamson Liquid Fly Reels is an excellent line of fly reels while being low-cost. While a cast aluminum fly reel is often considered a step down from a machined reel, the hybrid Waterworks-Lamson Liquid Fly Reel uses the technique to great advantage. Pressure-casting not only holds costs down, it also makes possible structural enhancements that can't be achieved by machining, such as fully radiused compound curves and near-zero radius inside corners. To achieve a precise fit and finish, some of the Liquid Fly Reel's cast parts are CNC-machined in critical areas, including the sealed conical drag system. When creating the Liquid Fly Reel, Waterworks Lamson focused purely on the virtues and advantages a pressure-cast process can offer. Structurally, you can do things with casting that you can't machine: Full-radius compound curves. Near zero-radius inside corners. And for a precision fit and finish, we even go back and machine the cast part in critical areas—amplifying the best aspects of both worlds. 
** Lamson Liquid Spools also fit Remix HD and non-HD Remix Reels **
Product Description:
| SIZE | DIAMETER | WIDTH | WEIGHT | ROD WEIGHT | MAX LINE | BACKING CAPACITY |
| --- | --- | --- | --- | --- | --- | --- |
| -5+ | 3.61" | 1.00" | 4.65 oz | 4.5.6 | WF6 | 100 yds 20# |
| -7+ | 3.85" | 1.14" | 5.20 oz | 6.7.8 | WF8 | 200 yds 20# |
| -9+ | 4.65" | 1.37" | 6.70 oz | 8.9.10 | WF10 | 250 yds 30# |