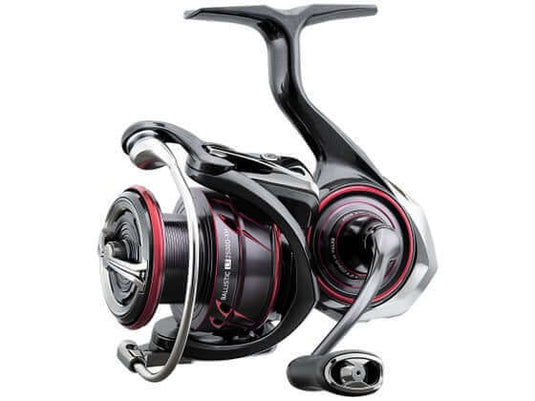 DAIWA BALLISTIC LT
The Daiwa Ballistic LT Spinning reels were designed to provide anglers with a stronger, more powerful spinning reel in the lightest and most compact package possible. The Ballistic LT spinning reels embodies Daiwa's LT design concept of Light but Tough with a feather-light yet rigid Zaion housing. At the heart of the reel is a machined Aluminum Alloy DIGIGEAR designed for smoothness, strength and durability. The main shaft utilizes Daiwa's proprietary Magseal technology, which prevents water and debris intrusion. The Daiwa Ballistic LT spinning reel is long-casting and extremely smooth employing a 7 Bearing System. Daiwa offers models ranging from 1000 to 6000 size the Ballistic LT spinning reels are designed for a wide range of applications incorporating many different techniques in both fresh and saltwater. The Ballistic LT series of spinning reels is a prime example of Daiwa's commitment to the LT Concept of modern spinning reel design, smaller, lighter yet stronger.
Daiwa Technology Found In Ballistic LT Spinning Reels :
LT Concept - 

The LT family of reels boast a smaller, lighter, more compact body which is paired with a larger DigiGear for the ultimate combination of Light and Tough.

DigiGear - 

The all-new DigiGear is precision machine cut and polished. This results in unmatched efficiency, better transfer of energy, and maximum smoothness.

MagSeal - 

MagSeal is the process of using MagOil, a special liquid developed through space engineering, to create a water and dust resistant barrier. Unlike rubber seals, MagOil will not effect the rotational performance of a reel. This creates a seal that allows the reel to maintain a light and smooth rotation for optimal performance.

Air Rotor - 

The Air Rotor weighs up to 15% less than ordinary rotor designs. Its unique shape reduces unnecessary weight while distributing stress more evenly throughout the rotor for maximum strength.

Corrosion Resistant Ball Bearings - 

Corrosion Resistant Ball Bearings boast a lifespan up to 12 times longer than traditional stainless steel bearings.